Finally.. an archer!
September 19, 2013 § 1 Comment
For a long long time I've been wanting to make a archer cosplay! For any game, every game, my normal default for a class is a archer/hunter etc etc. Whatever they may be called within that game. Since playing Dragon Nest for awhile… I've really grown to love their designs. But the great part about it is that they have contests for fashion designs in game that are limited edition! Well… I found one I absolutely love =3 It's by an artist that goes by Ziyoling which makes such awesome designs for DN classes! Here's the one I want to make:
Can you guess which color I'm making~? xDD Well since there isn't a pink/purple one, I guess blue will do =3 I really love the design and I'll be making the prop this time so I'm super excited for me. I do have to say after watching Heroes of cosplay (which a review should be in a post all on its own) I have been trying to rely on myself and what I can do versus relying heavily on a boyfriend, husband, etc. But I think you need a person as a second opinion that will tell you how it looks straight up (hence why my outfits in their pre-stage has been deemed "potato sack"
Right. About the cosplay! the ingame model doesn't look as nice (of course) and they made it waaay shorter too o.o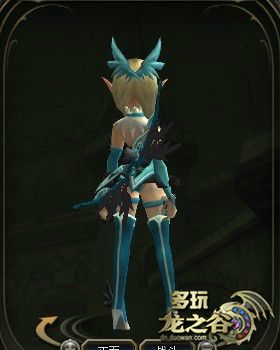 I'll be making it more to look like the original drawing but… it's interesting to see the differences xD
At this point I was planning to make this for ALA but it seems as though I have another convention before that: Comikaze? Maybe I'll just wear Asuna again though xD Anyways! Really looking forward in making this already! Prop is already in progress =3 I'll have to post up pictures later but my facebook always gets updates in a timely matter if you'd like to check it out =3
–Kimikotan
§

One Response to Finally.. an archer!